Once the home of Colorado's Robison Family, the Royal Gorge Mansion is now a premier Afternoon Tea, special event and lodging destination located in the spectacular Royal Gorge Region in Cañon City.  Just 45 minutes southwest of Colorado Springs and two hours from Denver, the Royal Gorge Mansion is a short walk from the famous Royal Gorge Route Railroad via the beautiful Arkansas Riverwalk trail.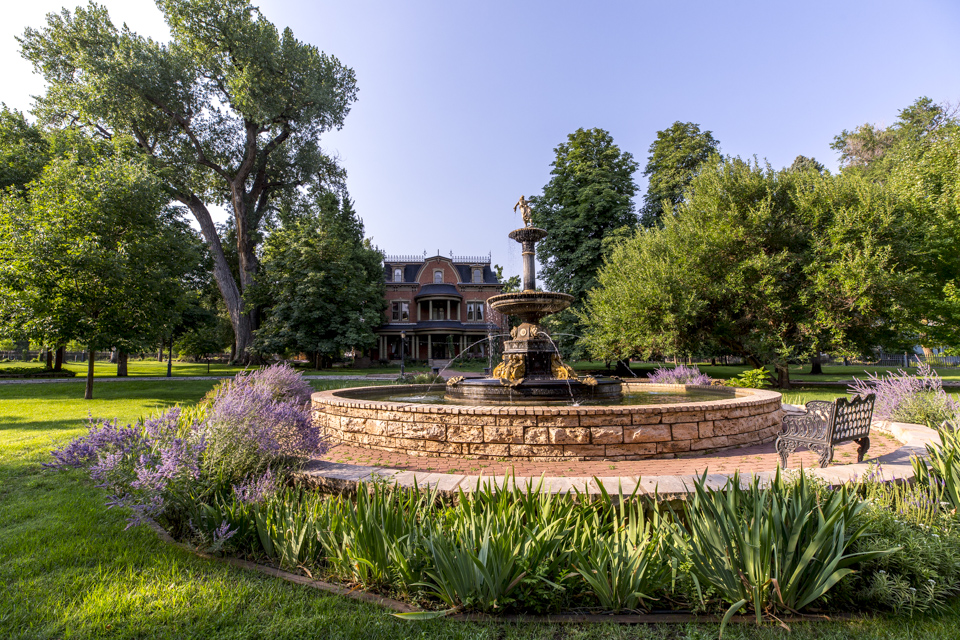 Built from 1882 to 1884 by Lyman Robison, a Scottish immigrant who earned his good fortune mining for silver and gold, the Royal Gorge Mansion remains one of Colorado's most stunning homes. Listed on the National Register of Historic Places, this turn of the century property is an excellent example of Second Empire Style architecture and Victorian interior design.
Rich in French influence, this elegant 6,500-square foot mansion features a mansard roof with dormer windows, along with 14-foot ceilings accented by crystal chandeliers and intricate molding. Four beautifully appointed bedrooms, two spacious parlors, a gorgeous dining room, gourmet kitchen and sunroom surround a custom walnut staircase.
This grand property sits on four acres of manicured grounds featuring 32 different species of shade and fruit trees, and a spectacular iron-cast fountain – modeled after the only other of its kind designed in New York City in 1860. It also includes a classic gazebo and two-story brick carriage house with an octagonal cupola centered upon its mansard roof. The property is enclosed by a stunning 1,400 square feet of custom iron fence adorned with gold-foiled finial accents.
While the main residence and the grounds are the heroes of the property, not many know about the mansion's iron-gated wine cellar and 1920's speakeasy style bar — perfect for evening parties.
There's so much to do in Colorado's Royal Gorge. From tea at the mansion, to a ride aboard the Royal Gorge Route Railroad, not to mention hiking, mountain biking and world-class white water rafting on the Arkansas, there really is something for everyone to enjoy in the Royal Gorge.
Book Now
Classic Afternoon Tea:
Click BOOK NOW to check schedule and seatings.
Afternoon Tea with Santa:
November through December
Afternoon Tea is a lovely affair! Please come as you are and enjoy every moment. For Tea with Santa, children are encouraged to wear cozy pjs!
Book Now
Welcome to the Royal Gorge Mansion!
Reservations are highly encouraged for Afternoon Tea and Afternoon Tea with Santa at the Royal Gorge Mansion.
Please arrive 15 minutes before your reservation. Each tea service seating lasts 1.5 hours, so we kindly request you plan accordingly to experience afternoon tea in its truest form.
Book Now
ROYAL GORGE ROUTE RAILROAD
Ride & Dine aboard the Royal Gorge Route Railroad, our sister property. Journeys through Colorado's most scenic canyon run daily aboard breakfast, lunch, afternoon and dinner trains.
Learn More